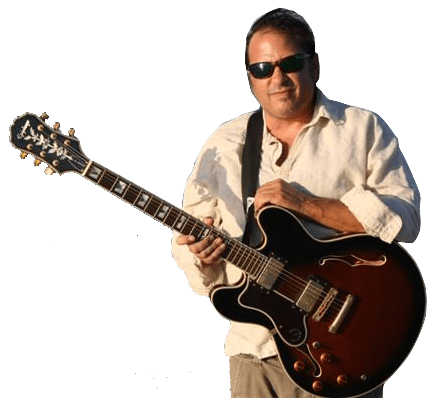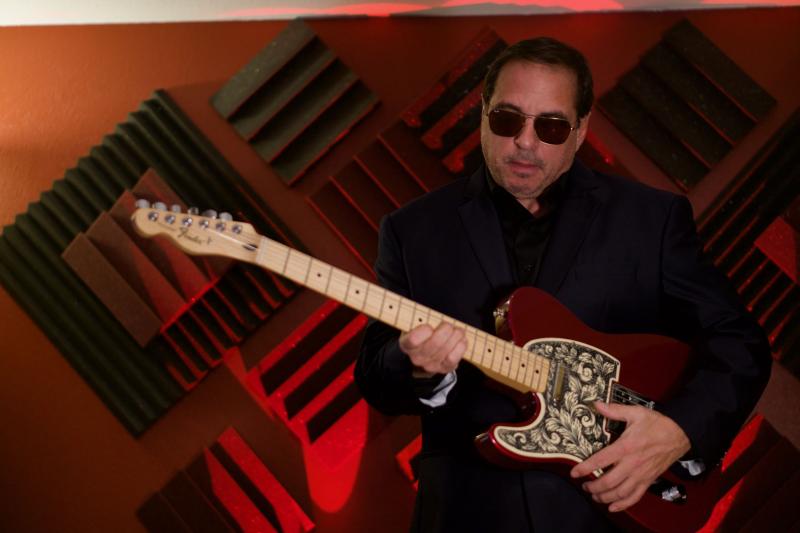 Andrew Appletree was born and raised in the Chicago area and at the age of 18 moved to North Carolina where he spent the next 18 years , and In his late twenties Andrew purchased his first guitar. His discomfort soon turned comfortable when he found a left-handed model, and the proper teacher. His hours of practice led to local jam sessions, and eventually to songwriting. Like many songwriters, Andrew stored away his songs playing them for few friends, and continued to write. It was around this time that Andrew fell in love with his future wife Liliana from Uruguay.
Andrew and Lili moved to Florida to study filmmaking and music production and to start a family. Tragically, a home fire destroyed most of these songs. He started to write again, and found a local studio to record.(Zen Recording3851 62nd Ave. North Pinellas Park, FL 33781) With Steve Connelly as his engineer – Co producer , Andrew cut some demos. A few months later on a trip with Lili to her native home in Uruguay, Andrew stumbled upon a recording studio. Turned out to be one of the finest & oldest studios in Uruguay "La Batuta and met Martin D'Alessandro & Ricardo "Lechuga" Rodriguez "engineer – Co producer" Andrew set up shop and recruited some Uruguayan singers and musicians.
Upon returning home to Florida, Andrew took the Tracks back to Zen and combined the tracks with the earlier recordings, thus the virtual band of Neptune Riders "Andrew Appletree's back up band was born.
Flying back and forth between the studios, Andrew was able to finish the recording in Uruguay just before they closed their doors for good, at the original location and plan to reopen in a new location some time in the future so the final mix was done back in the States.
Andrew said on the album for a few years and then a friend encouraged him to release it, his freshman effort was received well in small circles but never pushed as a commercial work at the time!
After the release of this album Andrew wanted to explore a harder rock 'n' roll/blues album so he started practicing in a place called the junkyard warehouse and started working with a heavy metal guitar playing Hard-core pirate name Scully, Barry Waddell, after writing many more songs Andrew decided to start the endeavor to record dragonfly. Still a singer songwriter album Andrew crafted the songs with, some incredible musicians like Steve Connelly Rick Derringer, Henry Lawrence, Barry Waddell koko Ray Hanson Brien Thomson etc. After the release of this album. This album was recorded entirely Zen Reccording, in the middle of this album Andrew ended up becoming a partner in the studio!
The songs on this album were recorded live as a band and then overdub after words.
This album contains 13 songs in it and true album ended up being 59: 59 sec long This album "Dragonfly" contains 13 songs.
Not long after the album was finished Andrew and his family moved to Colorado.
Andrew was eager to record my music, and went back to Florida and had a one-week lockout sessionNot long after the albumNot long after the album was finished and lay down the foundation for the next three albums, over the years Andrew has been finishing up this music and now has his third album Hommage, A cover song album.
Andrews first endeavor into covering other peoples music. Ready for release along with two more albums in the can ready to go The gypsy rides the subway train, and Winters Edge The! Both of these albums are made up of all original songs. These will be ready to release in 2021 to 2023 is the target date for the fourth and fifth release of Andrew Appletree.
Andrew also founded and started a record label which he promotes his own music and will start promoting other musicians in the near future. The name of the record label is Lava Lamp Love Records & Media Company.
Andrew is also a painter in an industrial engineer in many aspects. Andrew is also an aspiring actor and director, he also produces all of this on Music, and consults for other projects.
My influences Pink Floyd Beatles Springsteen Tom petty Grateful dead all Blues 60 & 70 rock.
My Music: Singer song writer mixed with rock & some folk /country Produced and crafted to my liking with great musicians mixed in and bring it all alive.
My goals: Are to become a better singer & guitar player and a great song righter /crafte Also love producing.
My message: Is different from song to song and interpreted differently by each listener.